Welcome to our February Blog Hop featuring Card Creations made from using CTMH How To Books. To purchase any of the items seen in our blog hop today, contact your local consultant to place an order.
We hope that you will take the time to leave comments on our posts, as we love to get feedback from our viewers....whether it was something that you really liked or some new technique that was used that you would like to learn how to do....by leaving us comments, we get to hear what you like, and what you want to see. Thank you… now on to our hop!
If you have just hopped onto my blog, you can start here as this is a circular hop, but if you want to follow us across Canada then please start at the beginning and join

Michelle

on her blog My Creations with Michelle. If you came from

Janet

of Jan's Works of Heart then you are in the right place!
I choose Hopscotch because i needed a little break in the winter. It is February and that means I am now planning my gardens for this summer. Since i am in such a spring mood i picked Hopscotch for my paper pack and i have 2 Program books i used as well as some old a new stamps.
Take a look at the whole set and then i will explain each card.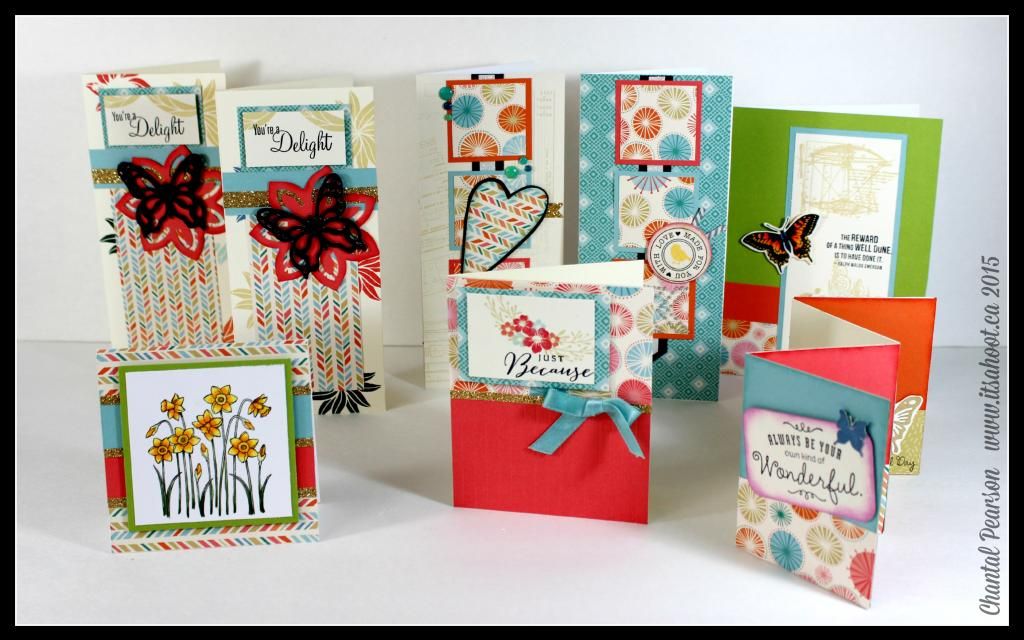 This card is an Hostess exclusive stamp from the Seasonal Inspirations and the pattern came from Originals and the pattern is called Double duty, i left out the top and kept it one color.
I added the middle colonial white to match the stamp. I cut out a circle and use the rock n roll stamping method and attached it with foam tape. I use Glacier, Flaxed and Black Memento Ink. I use copics to color the stamp, just some yellows, red, blue and purple.
CTMH is really known for having super versatile stamps, as soon as i spotted this stamp i thought of a simper card It is from the Seasonal Inspirations (Happy to be friends).
The Hollyhock paper is actually scored vertical every 1/2 inch.
I use Glacier, Flaxed, Hollyhock and Sunset ink. The black is from my trusty Black Memento ink.
To get a coordinating ribbon color, i used a spray pen with Glacier reinker and rubbing alcohol and when it was dry i use a glue dot to attach it to the ribbon and card. The pattern comes from well to be honest. I have no idea. If you can find it. I will send you a present!! Email me at itsahootpapercrafts@gmail.com
Butterflies are a sure sign of spring, I adore the ones from Artbooking and Artist cricut cartridges. Here are some hints for this card. The flower and butterfly are attached with foam tape.
Random stamping is awesome, i use an order stamp set to make the base pattern, and i used the sentiment from Happy to be friends.
I used Sunset, Ponderosa Pine, Champagne, Hollyhock inks and Black Memento ink. The pattern of this card come from Originals program book and the pattern is called Bound Together.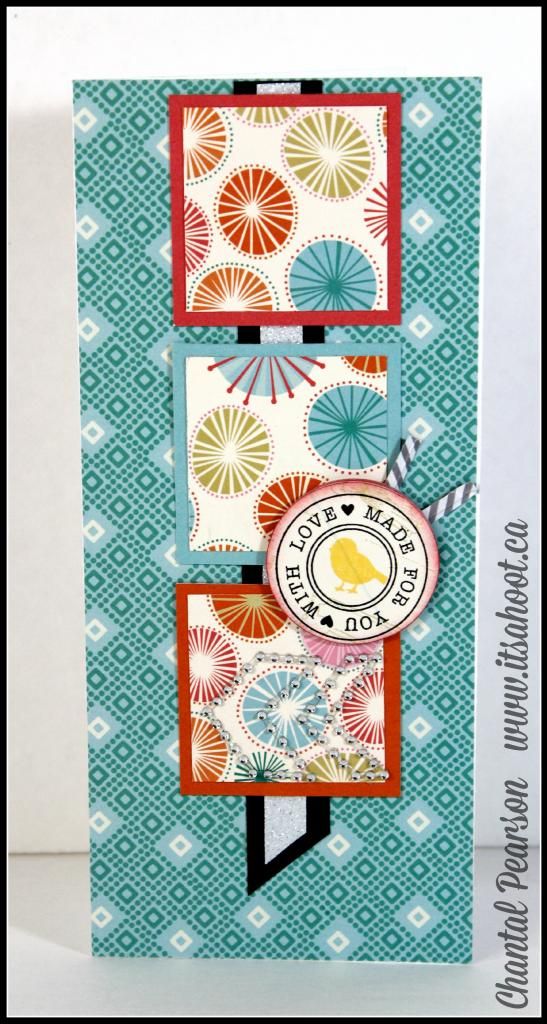 I love how this card turned out and the pattern is super fun... so i made 2 different ones.
This one uses a current stamp set that is usually made for tags or the back of cards. It is called Handmade from the Seasonally Expressions (ends March 31st).
For some added pop, down the middle of the black flag i used a white shimmer trim, the camera sadly does not pick up the sparkle.
This lovely pattern is from the program book Originals and the pattern is called Vertical Three.
I added a chip board hart that was super easy to make. The heart comes from a coordinating cricut cartridge. Simple and easy. Aqua dots are fun and i hope they come out with more colors. FUN!!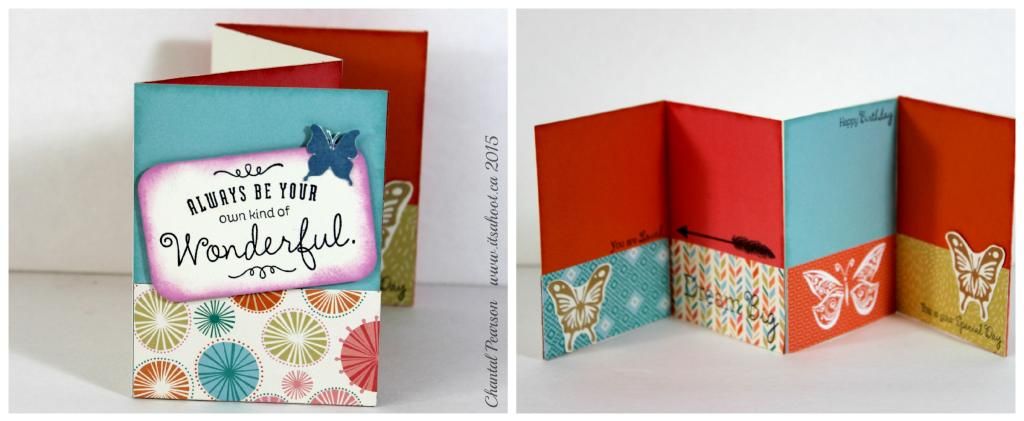 Super fun mini photo cards or used as a mini album. It would be great for photobooth pictures or even school pictures. I used the card pattern from program book Originals, the pattern is called Pocket card. The butterflies are embossed in gold and white. I used Ponderosa pine, Pacifica and black Memento ink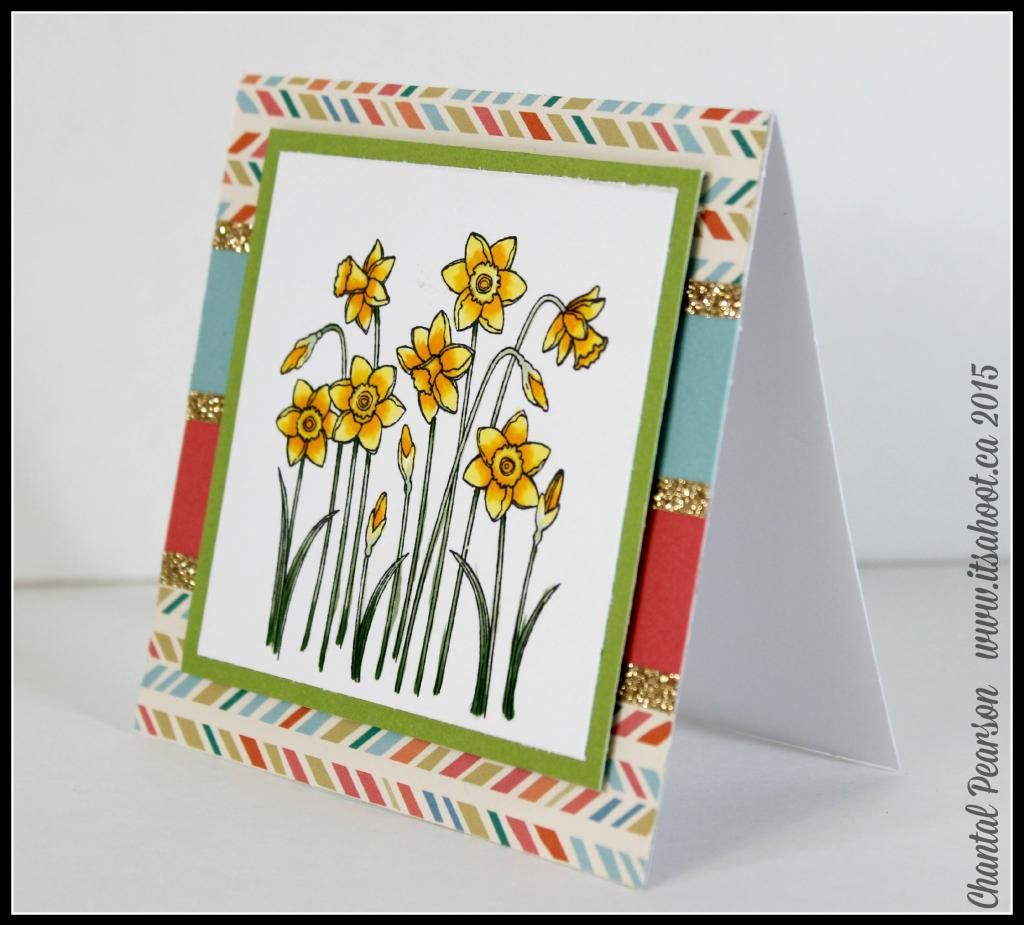 I am such a fan of the A sized stamp sets, This one is a quick stamp card. It takes no time at all to color the flowers. The card base is one i thought of when i was cleaning up my scraps from the other cards.
I really do love the gold shimmer trim. Colored with copic. Y13, Y15, Y17 and YG61, YG63, YG67. P.S i do so love how i turned the card slightly in this picture and i believe i will be doing that from now on..lol
Your next stop on the Cross Canada Hop is

Heather

of Inky Hugs
If you get lost along the way, you can head to

Michelle's

Blog, my creations with michelle, as she has the complete blog list.
Thanks for hopping along with us - we hope we were able to inspire you to get creative using some of the designs, products and techniques seen along the way. We hope you will join us again next month when we will be featuring Easter Fun creations. So mark March 15th on your calendars and hop along with us.