Welcome to our September Blog Hop featuring our Favorite New Things. To purchase any of the items seen in our blog hop today, contact your local consultant to place an order.
We hope that you will take the time to leave comments on our posts, as we love to get feedback from our viewers....whether it was something that you really liked or some new technique that was used that you would like to learn how to do....by leaving us comments, we get to hear what you like, and what you want to see. Thank you… now on to our hop!
If you have just hopped onto my blog, you can start here as this is a circular hop, but if you want to follow us across Canada then please start at the beginning and join Julie at
12x12 Travels
. If you came from Terry Ann of
Just a TAD Crafty
then you are in the right place!
It has been a few months since i have been a part of the Cross Canada Hop. This was not one to miss, i have to be honest and say there was NO way i was able to narrow it down to 1 favorite but i was able to combine them in to one super duper cute card!! Not sure who it is going to quite yet. Lets take a tour of the card's recipe!
The card is a standard A2 size (meaning 4 1/4" x 5 1/2") I always end up making this size, maybe because i love it? it is cute!!
Recipe:
Lagoon Hearts (backgound) - Stinking cute and NEW!
Shimmer trim - everything needs a little shimmer
Cardstock - Thistle (EEK!!) NEW
- Whisper
- White Daisy
Sequins - The sliver assortment (lovely) NEW
ATG Gun
Foam tape
Sweet as Sugar stamp set - Hostess reward only and just one of my favorite. Yep it's NEW
Post it notes (for masking)
The inks: Take a bathroom break, there is a few to share. hehe
Black Memento Ink
Thistle stamp pad
Cranberry stamp pad
Glacier stamp pad
Pixie stamp pad
Canary stamp pad
and last but well used is Chocolate stamp pad.
I also used a light blue copic marker to highlight the glass jars.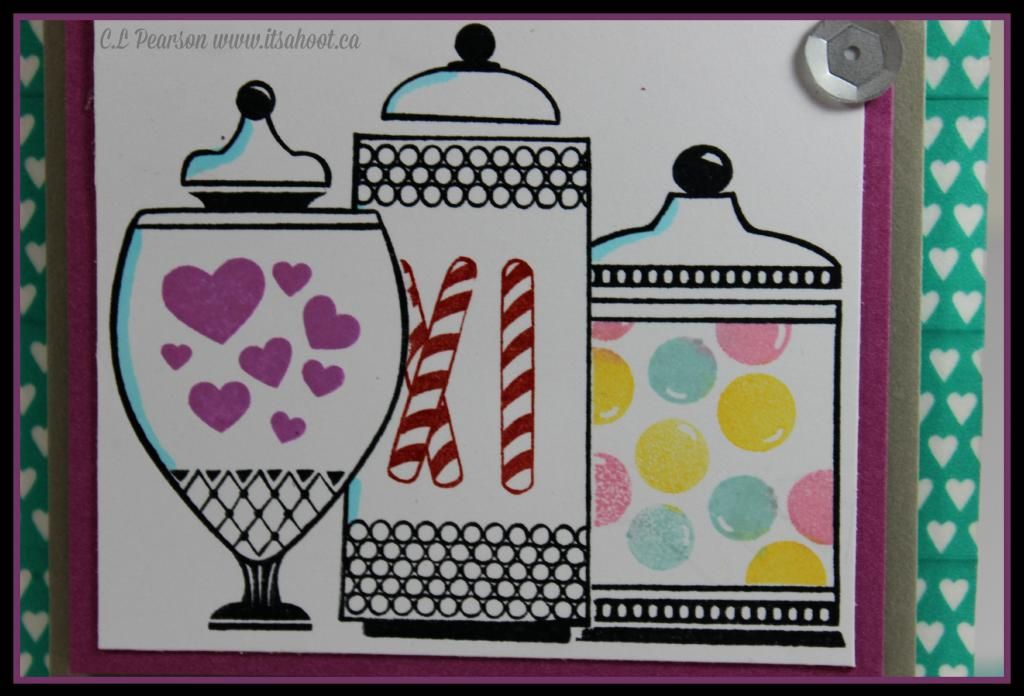 This is a HUGE close up of the masking and the cute candy. I really love this technique. It will make your old or new stamp sets come alive!
Disclaimer - The colors on this card are brighter then what is shown.. I may have had a little lighting problem this week.
Your next stop on the Cross Canada Hop is Nancy's
Blog
.
Thanks for hopping along with us - we hope we were able to inspire you to get creative using some of the designs, products and techniques seen along the way. We hope you will join us again next month when we will be featuring Trick or Treats,for Halloween. So mark October 15th on your calendars and hop along with us.