Our fearless leader Nancy Klein chose our first color challenge, Buttercup, Sorbet, New England Ivy, Gypsy and lagoon as well as the basic color pallet.
This is a circular blog hop, so matter where you start if you keep going you will end back where you started and you can find a full list at the end of this post, just in case.
If you came from
Diane Fischer from Paper Crafters Sorority
then you're in the right order.
Here is my cute little project, it is a wonderful quick base and bling necklace. This fun necklace features a peacock feather center that is a sticker that coordinates with the base and bling line from Close to My heart (of course!)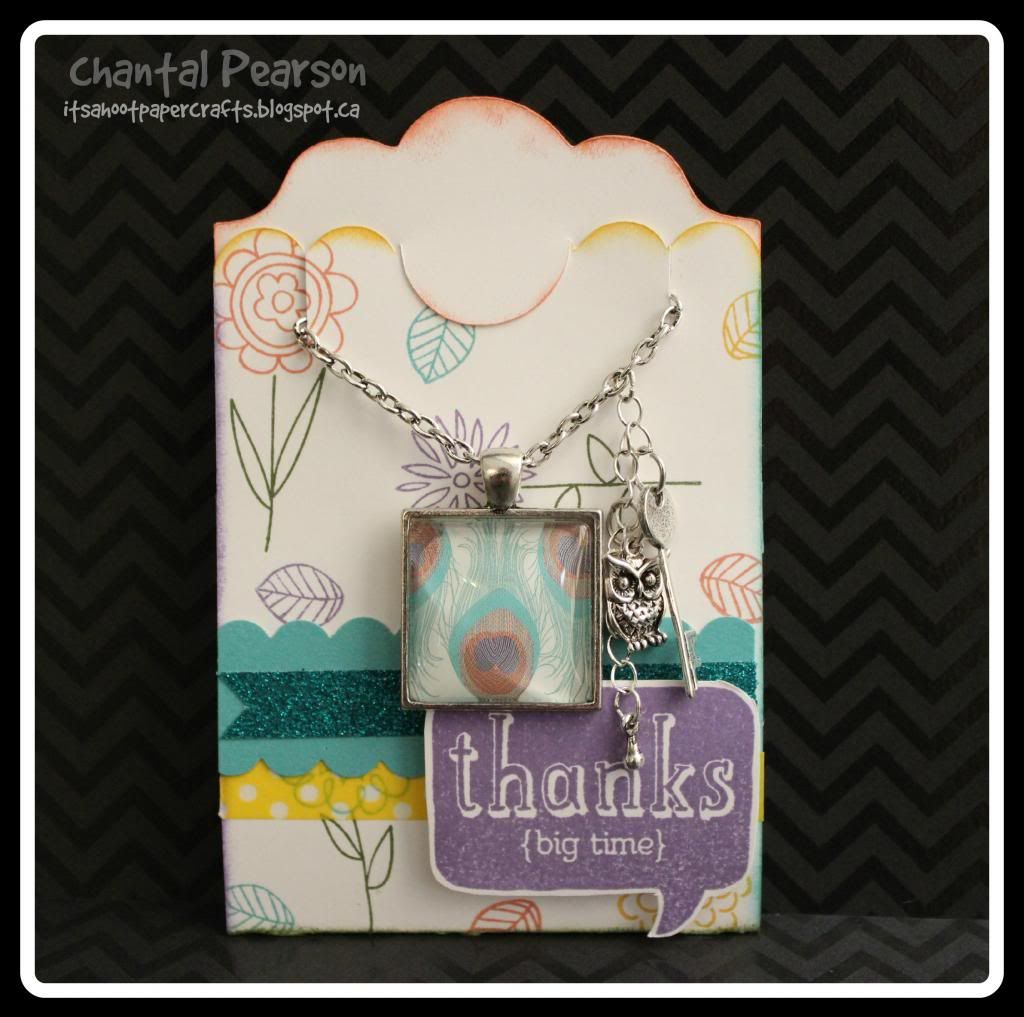 I use pliers and took off the 2" of extra chain from the top and attached to the side of the pendant with the chain and hung a key and owl, also from the base and bling line
A close up of the pendant and hanging embellishments. Did you notice the cute card it is hanging on? I cut it from the Artiste at 3". the chain hangs in a little bag inside the stamped package with coordinating washi tape.
Keeping with the color pallet, i made this cute card for a family member. Everything is also Close to my Heart and other then the sliver trim it is all scraps. yay!! use them scraps!
Also if you're wondering, yes i did use the wrong yellow (opps)..in all my projects even the card.... if not then carry on and forget i said anything :-)
Thanks for stopping buy and please feel free to comment. We just love reading them!
Your next stop is Christine Marshall from Perfect Finishes..Always
See you next month for our next Hearts of the West Team Challenge.
Remember your welcome to join our amazing team, just contact ones of these consultants to get you started! if you need help just message any of us and we will direct you to the closest consultant to you!
1. Nancy Klein - http://nancyklein.blogspot.ca/2014/05/hearts-of-west-blog-hop.html
2. Chelsey Vorosmarty - http://www.personaltouchscrapbooking.com/2014/05/hearts-of-west-may-blog-hop.html
3. Linda Pekrul - http://blueskyscrapping.blogspot.ca/2014/05/hearts-of-west-blog-hop.html
4. Diane Fischer - http://papercrafterssorority.blogspot.ca/2014/05/May-1st-hearts-of-the-west-blog-hop.html
5. Chantal Pearson - http://itsahootpapercrafts.blogspot.ca/2014/05/may-1st-hearts-of-west-blog-hop.html
6. Christine Marshall - http://perfectfinishesalways.blogspot.ca/2014/05/welcome-to-1st-hearts-of-west-blog-hop.html
7. Freya Hall Dunbar - http://freyassimplecreations.blogspot.ca/2014/05/hearts-of-west-blog-hop.htm
8. Michelle Marciniw Olson - http://mystudiowithaview.blogspot.ca/2014/05/welcome-to-1st-hearts-of-west-blog-hop.html
9. Corinna Murphy - http://corinnacraftfun.blogspot.ca/2014/05/may-1st-hearts-of-west-blog-hop.html
10. Janet McCormick - http://worksofheart2011.blogspot.ca/2014/05/hearts-of-west-may-blog-hop.html
11. Donna Digby - http://datsmystyledj.blogspot.ca/2014/05/ctmh-hearts-of-west-blog-hop.html