Welcome to our September Blog Hop featuring Jeanette's Archived Stamps. You will see creations from our participants that will include 1 of 5 stamp sets that Close To My Heart has taken out of Jeanette's
Archived
collection. To purchase any of the items seen in our blog hop today, contact your local consultant to place an order.
We hope that you will take the time to leave comments on our posts, as we love to get feedback from our viewers....whether it was something that you really liked or some new technique that was used that you would like to learn how to do....by leaving us comments, we get to hear what you like, and what you want to see. Thank you… now on to our hop!
If you have just hopped onto my blog, you can start here as this is a circular hop, but if you want to follow us across Canada then please start at the beginning and join Michelle at My Creations with Michelle. If you came from Nancy Klein then you are in the right place!
I'm in the little homemade everything cutesy mood lately, you should see my new apron my mom sewed me, it is just perfect and lots of owls..of course. This is a handy little 3x3" post it note matchbook. After I researched a few different types and came up with my own measurements..I just googled it. I used Copic markers some of mine and the others I borrowed from one of my downlines. As you can see I added some sparkles and ribbon to cover up the staples. I will soon have these sets and more on my Etsy store. The actual match book was cut from kraft card stock cut 2x and then I glued them (good ol Bonding Memories) together to make the book fairly strong, I scored after it was dry (like 10 mins after i glued it). The rest is pretty easy to figure out. I used a few different stamp sets to make some but this Jeanette Archived Stamp sets are the best and my this the first one and so far my favorite. Im off to buy more of them...since they are only available for a short while (maybe only for this idea book).
This is the inside of this pretty cool mat
chbook, I choose to coordinated the color of the post it note to match the vibrant yellow background.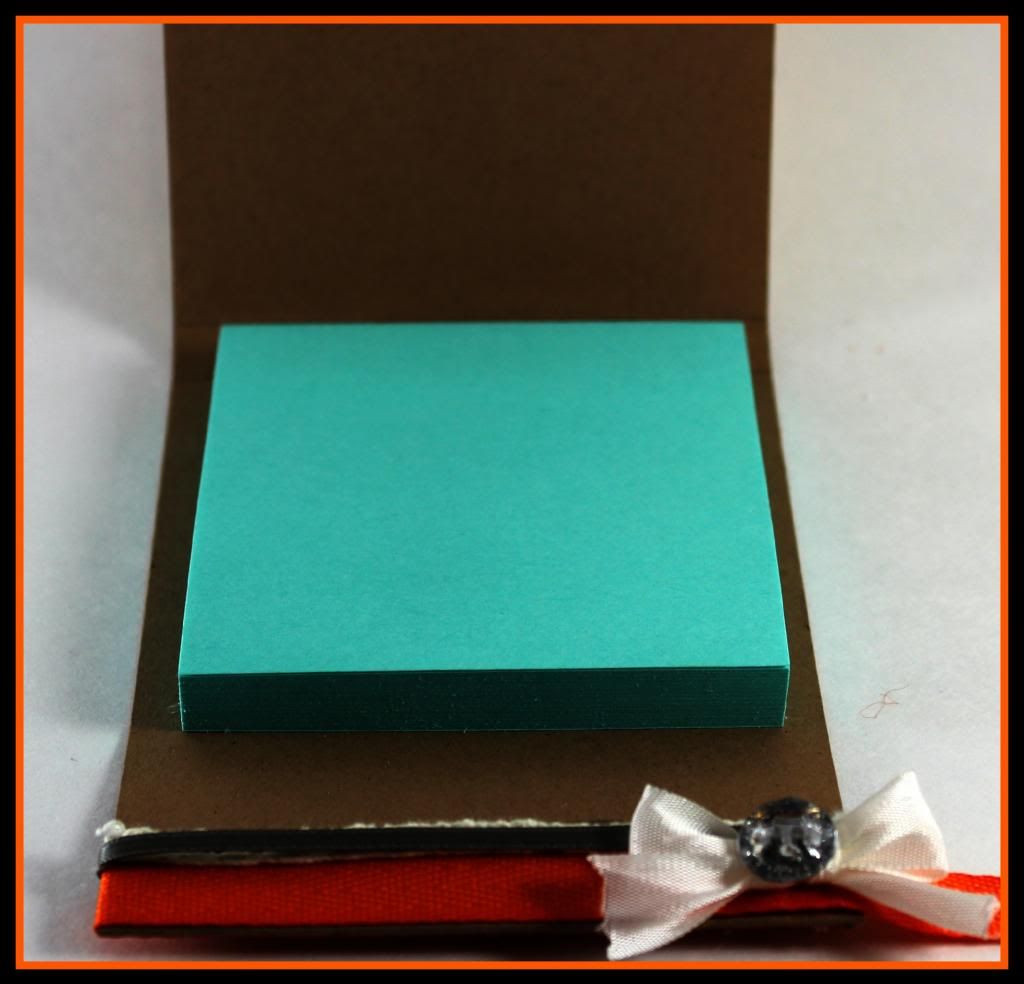 If you would like to have the measurements please feel free to contact me!
I'm at the end but feel free to click on Michelle's in case you did not start at the start.
All these picture were from my new Cannon Rebel T3i and a light box, they turned out great and i am still learning how to not use the auto.
Thanks for hopping along with us - we hope we were able to inspire you to get creative using some of the designs, products and techniques seen along the way. Join us again in November when we will be featuring the Holiday Gift Guide. We hope you will join us again on November 15th.